Serum is a decentralised exchange (DEX) and ecosystem that runs on the Solana blockchain and serves as the centrepiece of Project Serum. Serum DEX has some of the fastest transaction completion times and most affordable trading costs in the cryptocurrency sector.
Cross-chain trading is made possible by the Serum decentralised exchange (DEX), allowing users to exchange assets across many blockchains. Serum DEX also accepts stablecoins and wrapped coins. Additionally, Project Serum offers consumers the chance to design their own unique financial products using the Serum DEX. Additionally, Serum DEX supports decentralised automatic limit order books in place of the conventional automated market maker architecture. Through an on-chain order book, serum end users may place orders with fully automatic matching. As a result, traders are able to control their trades more.
Serum Token (SRM)
Serum coin (SRM), the native utility token of Project Serum, is based on the SPL token standard and is native to the Solana blockchain. The SRM token is now also cross-listed as an ERC-20 token standard for Ethereum, nevertheless.
A maximum of 10 billion SRM tokens are available in Serum. The 175 million token initial circulation supply was introduced largely to provide liquidity to the enterprise. However, a large number of SRM token owners decided to lock up their tokens, which therefore decreased the available supply. The Serum token (SRM) is primarily used by traders to generate passive income with cryptocurrencies through staking incentives and a decrease in trading fees on the Serum decentralised exchange (DEX). Holders of tokens can save up to 60% on trading fees.
MegaSerum Token (MSRM)
The MegaSerum token is Project Serum's second token in the Serum ecosystem (MSRM). Similar to the SRM token, MSRM coins are native to Solana and adhere to the SPL token standard while also being cross-listed as an ERC-20 token. Million SRM tokens are equal to one MegaSerum token (MSRM).
How to Get Started with Serum DEX?
Step 1: Visit the Serum trading interface by going to https://dex.projectserum.com/#/ in the first step. In the top right corner of the screen, click Connect.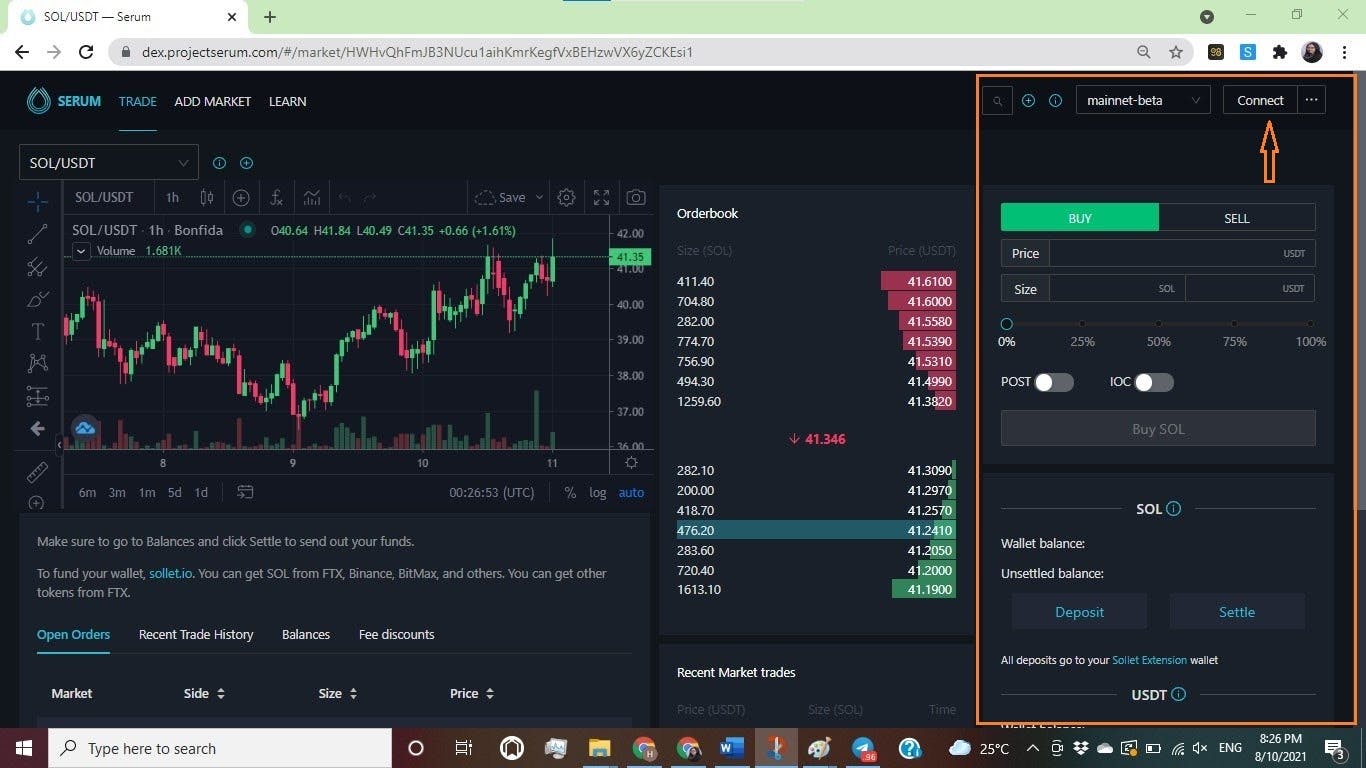 Step 2: A window for the Sollet Wallet will open. On the next screen, enter the password, click Unlock, and then click Connect. Users will be able to successfully link Serum to Sollet Wallet and begin trading.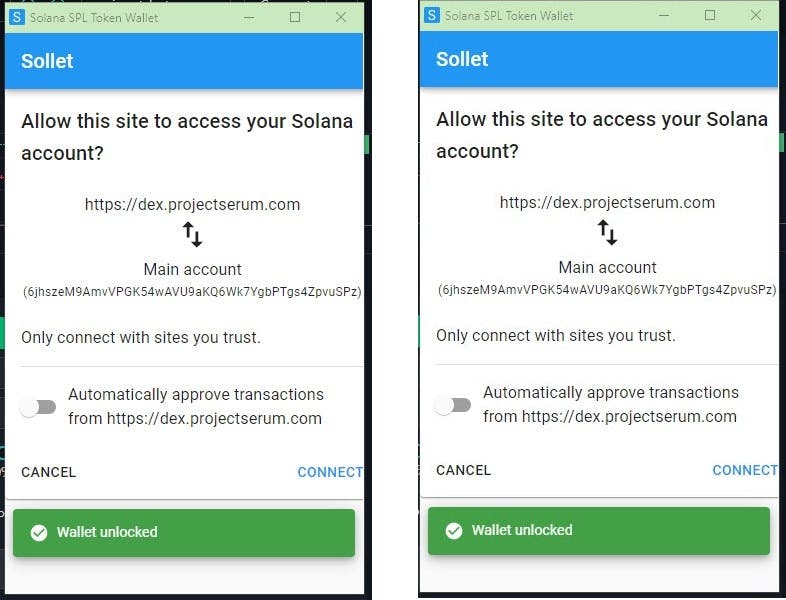 Step 3: Enter the number of tokens you wish to sell. Then, to finalise the transaction, click Approve. A Trading Confirmation that verifies the successful transaction will appear in the bottom left corner of the trading screen.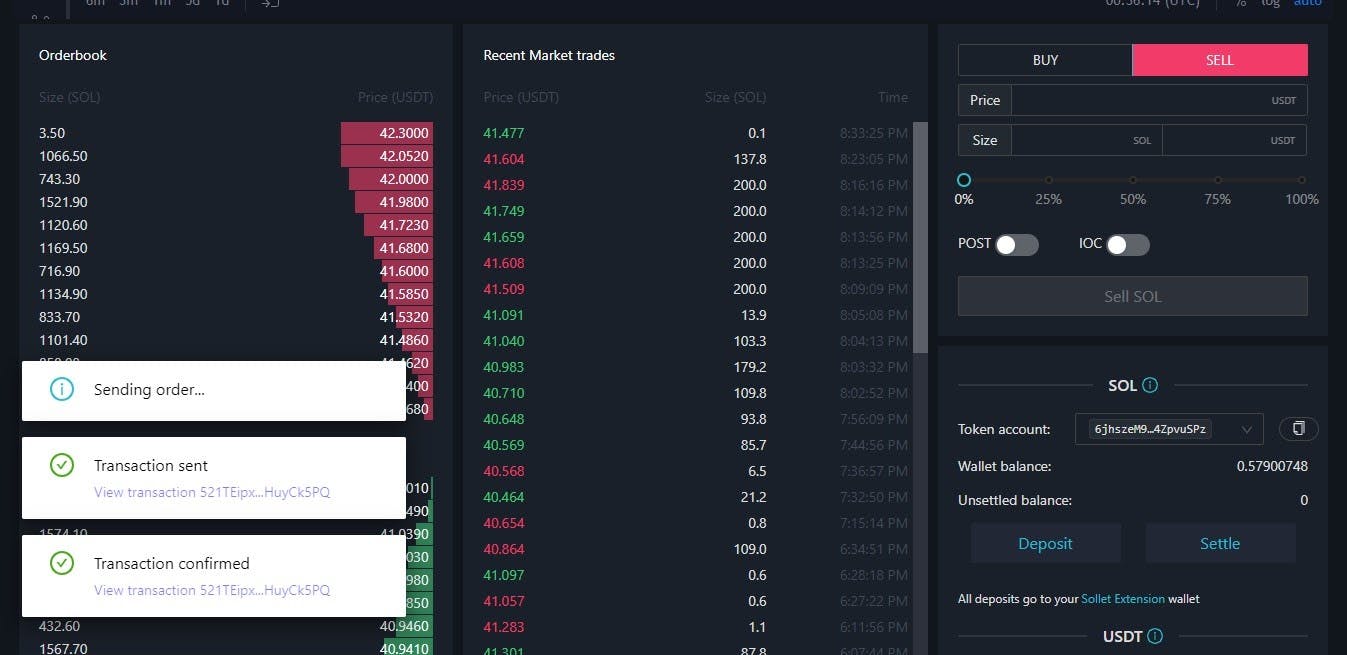 Step 4: Users must settle funds back to their personal Sollet Wallet in order to get them after cancelling Open Orders or having any deal successfully matched.
Navigate to the Balances tab at the trading screen's bottom. The Unsettled column will display the token amounts that are held in an intermediary account. To begin transferring those tokens to users' wallets, click Settle. Then click Approve.
Conclusion
This was all about Serum DEX. The majority of decentralised exchanges and automated market makers are not like Serum DEX. Fully automated order matching is made possible by Project Serum's native DEX, which uses order books for transactions. Limit orders can then be used by traders, giving them greater control over their deals.