Ever thought about trading on debatable topics or topics that are gaining attention from the masses? If not, this is another surprise from the ever-growing crypto world. It never fails to amaze you! Usually, your financial status depend a lot on your decision-making skills. But what if your predictions could be traded, simultaneously making you a more knowledgeable and wealthy person? This is the basis of functioning for the Polymarket of Polygon. When you wish to buy shares, you make decisions based on your knowledge and research. However, market prices fluctuate based on the probability of future events.
What is Polygon?
Polygon is known for revolutionizing the Web 3.0 space by providing the required infrastructure. It is a decentralized Ethereum-based layer-2 solution. It provides developers with assistance in developing user-friendly decentralized applications. The platform supports low transaction fees and high security. It is not bounded by technical knowledge or permissions and facilitates a fantastic developer experience. The platform has helped build several decentralized applications, such as SportX, EasyFi, ZED RUN, DfynNetwork, etc. It hosts a total of 37,000 dApps, as of the time of writing this blog. dApps or decentralized applications are digital applications that operate on decentralized blockchains.
How to get started with Polymarket?
As they read this blog, many of our readers might be new to the crypto world or may not own cryptocurrencies. To your relief, you need not worry as we will walk you through the entire process of trading on Polymarket in a few simple steps mentioned below:
Create an account
To start trading on Polymarket, you must have an account on the platform. First, enter Polymarket.com in your browser.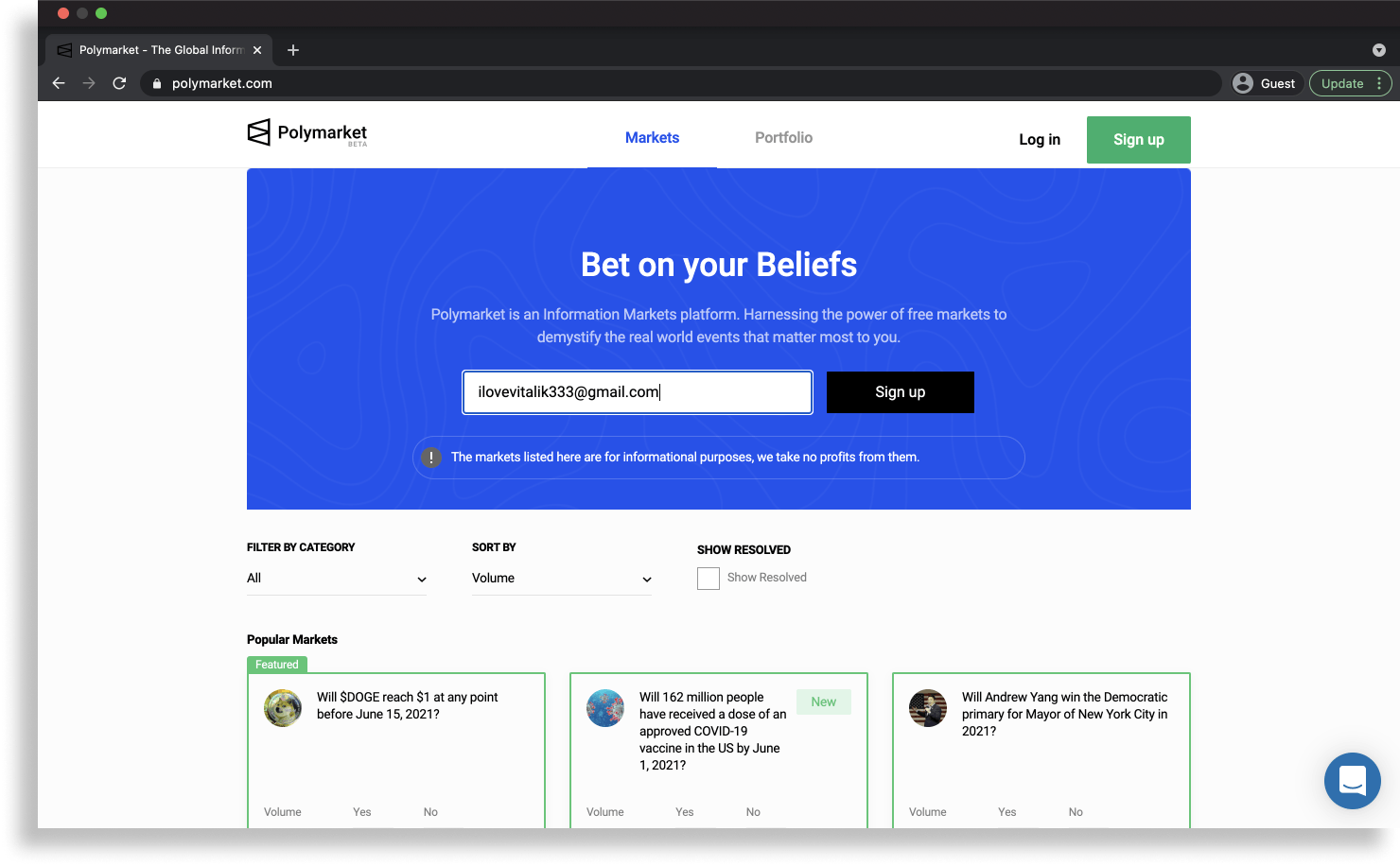 You will find the options as shown above. Enter the email address you want to register with, in the given white box and click on Sign Up.
You will receive an email with the subject "Log in to Polymarket" on your registered email address. Open your email on another tab and click on the mail.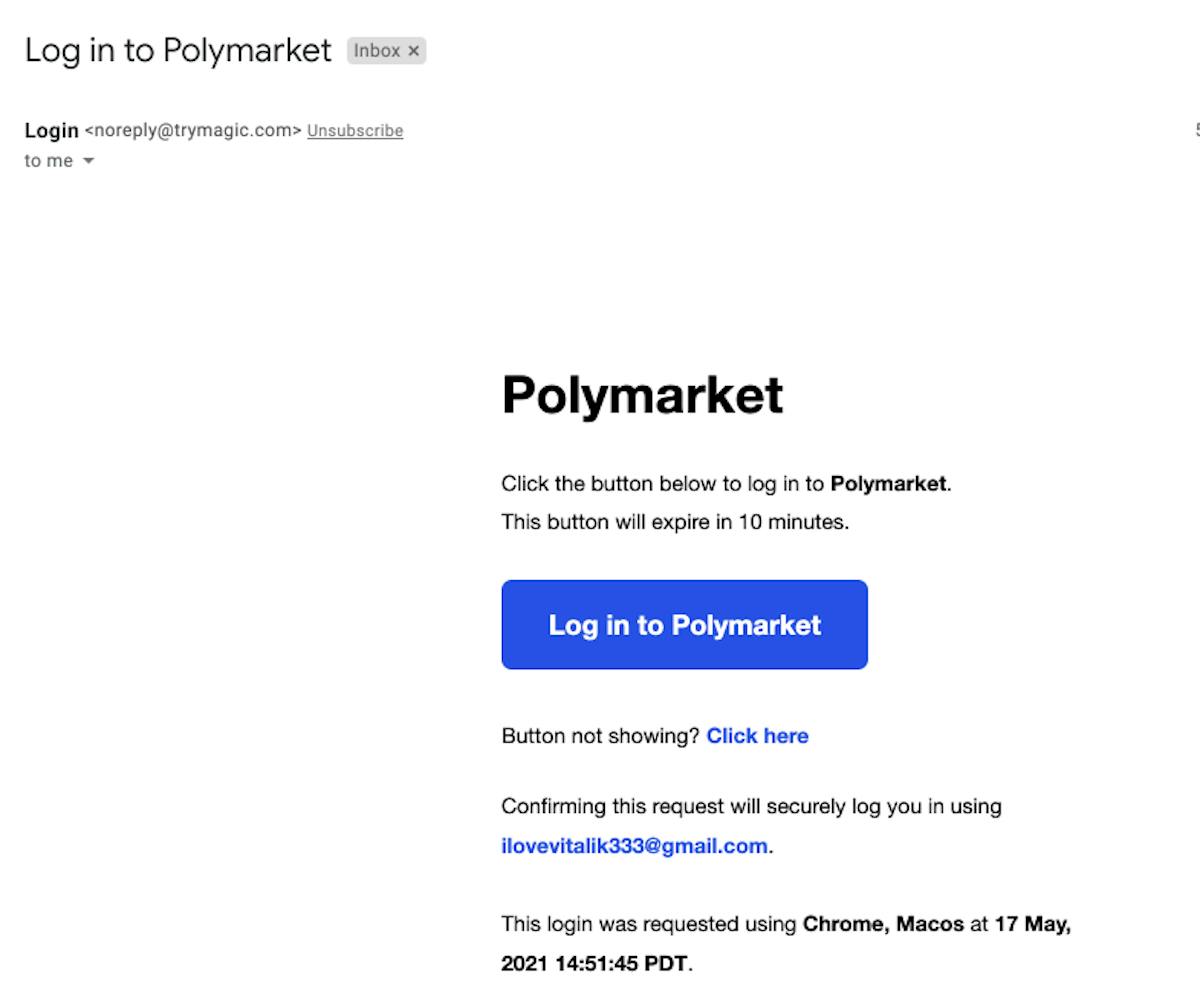 The mail will look similar to the picture shown above. Click the "Log in to Polymarket" button to verify your email address.
Go to, Polymarket.com, enter your desired Username and Optional referral code, and click on Create Account.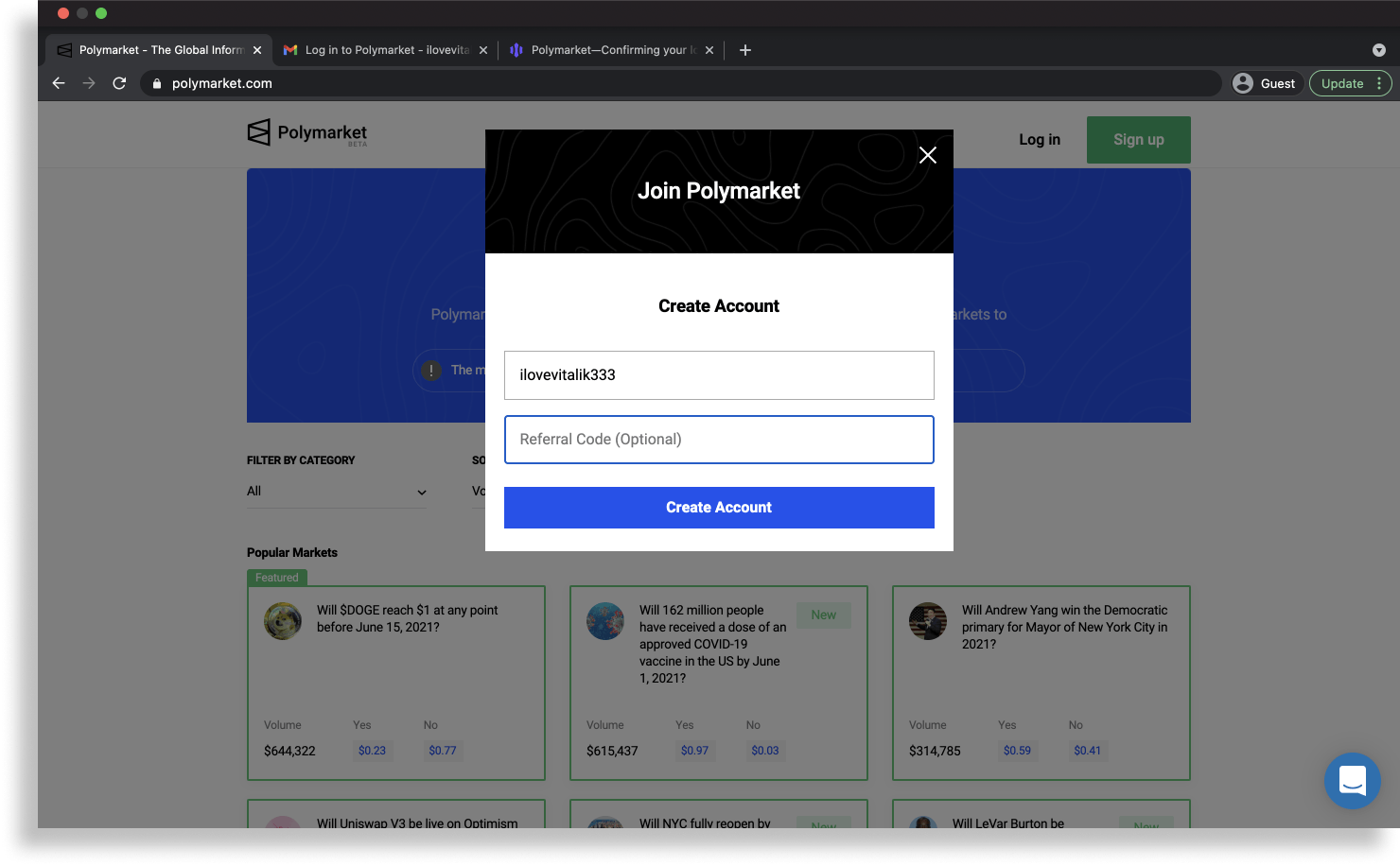 Congratulations! You have successfully created an account on the Polymarket platform.
Purchase USDC tokens to deposit on the Polymarket wallet
Trading on the Polymarket platform takes place via USDC tokens. If you do not have the required cryptocurrency, you can buy the same from Crypto.com. You need a bank account or credit card to initiate this process. 
If you have other cryptocurrencies like SOL, BTC, or ETH in your wallet, you can easily swap them for USDC tokens on various exchange platforms such as Coinbase, Metamask, Exodus, etc.
Fund your wallet Polymarket, Polygon wallet
You need to have the USDC token in your Polymarket wallet. If the tokens are in your Crypto.com wallet, you could transfer them to your Polymarket wallet with a nominal fee of $0.08.
Ready to trade on Polymarket, Polygon
You are now ready to trade on the Polymarket platform. Carefully go through all the available markets, analyze the available information, and make the best decisions to trade for profit.
How to create a Portfolio on Polymarket?
To see market price fluctuations on Polymarket, you need to build your portfolio on the platform. Don't worry, as it is not any Rocket Science, and even if it looks like one, you are sure to find it easy after following the steps given below:
Step 1: At the top of the page, click on the "Markets" option available on the navigation bar.

Step 2: Browse through the available markets and select the market of your choice.
Step 3: Choose the outcome you feel will resolve correctly in the Buy/Sell Modal. Next, input the USDC worth of shares you wish to purchase.
Step 4: Click on "Buy." Review your transactions and carefully review the Terms of Service and Privacy Policy available on the site.
Click on "Confirm" to confirm your transaction.
Step 5: After around 20 seconds, your transaction will be completed, and you will receive a message as shown below.