If you have recently started discovering the world of crypto, you will soon come across various terms like decentralized exchanges, decentralized finance, blockchain, etc. As the name suggests, decentralized finance is a financial system not regulated by centralized authorities such as stock exchanges, brokers, banks, etc. They utilize smart contracts to process transactions and record the same.
A decentralized exchange is a significant feature of decentralized finance (DeFi). Essentially, they do not involve any centralized regulatory authority and work on a peer-to-peer exchange basis. They function through decentralized apps (dApps) and utilize smart contracts to facilitate trading. A smart contract is a coded contract written between a buyer and a seller, which defines their terms and conditions of trade. The contract is self-executable, and the transactions executed via smart contracts are irreversible and traceable. They are operated via code and function on the decentralized blockchain.
Over the years, several decentralized exchanges (DEXs) have been functioning in the crypto market. Even though the basic process of trading on all these exchanges is more or less identical, no two exchanges charge precisely the same transaction fees or may trade cryptocurrencies at different prices. For a person who is new to the crypto domain, finding a fair exchange is essential, or else you may suffer losses. These losses might not appear huge initially, but as they accumulate over time, you will feel the pinch in your wallet.
So now you must be wondering, what is the best platform to provide information about these various exchanges in one place? Does it even exist, or does one have to hunt down the internet every time a new decentralized exchange is introduced in the market? As crypto is gaining popularity and you are not the only one facing this issue, the developers of the 1inch network have already worked on a solution to this problem.
What is the 1inch network?
1inch network is a decentralized finance aggregation platform that offers tokens at the best possible price after considering the prices shown by various top decentralized exchanges. The platform was founded by Sergej Kunz and Anton Bukov in August 2020. When writing this blog, the 1inch network processes transactions across five decentralized exchanges: Arbitrum, Binance Smart Chain (BSC), Polygon, Optimism, and Ethereum. 
The native token of the 1inch network
The native token of the 1inch network exists by the name 1INCH. It was launched by a Non-Governmental Organization (NGO), 1inch Foundation. This organization entirely governs the 1inch ecosystem. It is a utility token and can be utilized in providing direction to the 1inch platform in the future. Several 1INCH tokens were distributed in an airdrop towards the end of 2020 by the company.
How does the 1inch network function?
The 1inch network utilizes a protocol that compares liquidity pools across several platforms in a fraction of seconds and offers the best possible prices. It allows swapping of tokens and burns gas tokens present inside the transactions to provide them at lower prices than other platforms. For using the 1inch network, you simply need to connect your wallet to the platform and proceed with the transactions.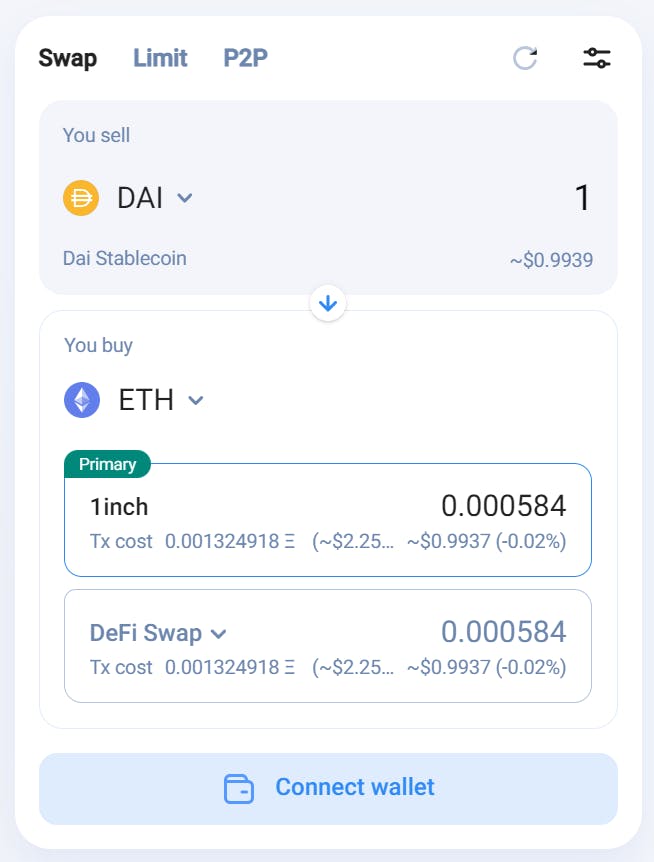 Features of the 1inch Network
1inch Network uses an algorithm known as Pathfinder to facilitate routing customer transactions through the most efficient route.
Provides the utility of multiple swaps across various paths.
Utilizes the instant governance process to facilitate voting processes over the platform.
Advantages and Disadvantages of the 1inch Network
Before using any product or service, customers usually tend to look at previous customer reviews and feedback to ensure whether the product or service is worth investing in or not. We, unfortunately, cannot provide you with past user data in our blog. Still, we can provide you with the advantages and disadvantages of using the platform so that you can decide on your own whether you would like to use this platform or not.
Advantages of the 1inch Network
Strong backing by notable investors like Galaxy Digital, Pantera Capital, and Binance Labs.
Cheaper as compared to other similar platforms.
Has not been hacked so far.
High liquidity levels are offered to the users.
Disadvantages of the 1inch Network
The platform is more suitable for people who are experienced in the domains of cryptocurrency and decentralized finance.
Deposit options offered are lesser than those provided on other platforms.