As a cutting-edge DEX system, ADAX takes pleasure in empowering users to manage their own assets. The DEX distinguishes itself from other automated liquidity providers with low fees and quick transactions by doing away with cliches like order books and allowing customers to swap and trade as they choose. ADAX traders have access to a social sentiment trading tool that enables fast strategy adjustments in response to market trends and developments.
What is ADAX?
A completely decentralised and non-custodial method of trade facilitation inside the Cardano ecosystem is provided through the automated liquidity protocol known as ADAX. Users are not forced to hand over their private keys in order for their requests to be carried out, and they can continue to fully control their tokens. 
The platform also offers an ERC20 converter, a tool made to let token issuers—organizations that want to make it possible for their tokens to be moved to the Cardano network—and their users—token holders—move their ERC20 tokens to the Cardano network. 
There will be a total of 100 million tokens minted for the platform. With a split of 10% for liquidity, 10% for team tokens, 15% for staking, 25% for the Treasury, and 40% for public distribution.
How to buy and sell ADAX?
ExMarkets offers ADAX for purchase, and the trading pairs that are offered include:, ADAX/USDT, ADAX/BTC, ADAX/ADA, ADAX/ETH.
Step 1: Create an ExMarkets account. You must sign up for an account on ExMarkets since it is  the only exchange that provides ADAX trading pairs. To begin trading, you must first click register and validate your email. ExMarkets is a Lithuania-based exchange.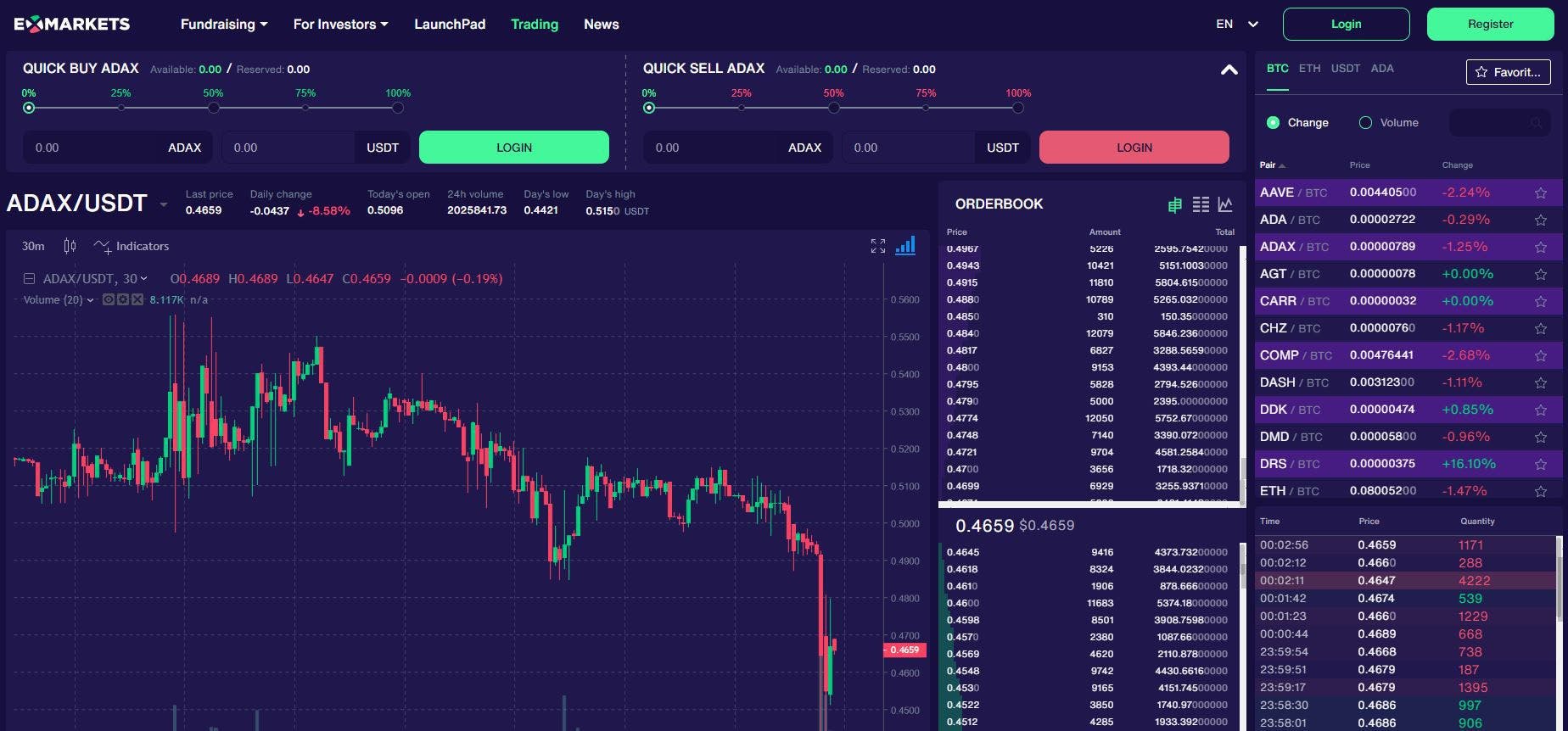 Step 2: Add money to your account. Although ExMarkets does not handle credit card payments, wire transfers are accepted for EUR deposits. However, adding cryptocurrency to your account is the simpler and faster way to purchase ADAX on the ExMarkets market.
Click Deposit > Deposit for the desired cryptocurrency after selecting your account. Since these are the trading pairs for ADAX, we advise you to select USDT, BTC, ADA, or ETH as your method of deposit.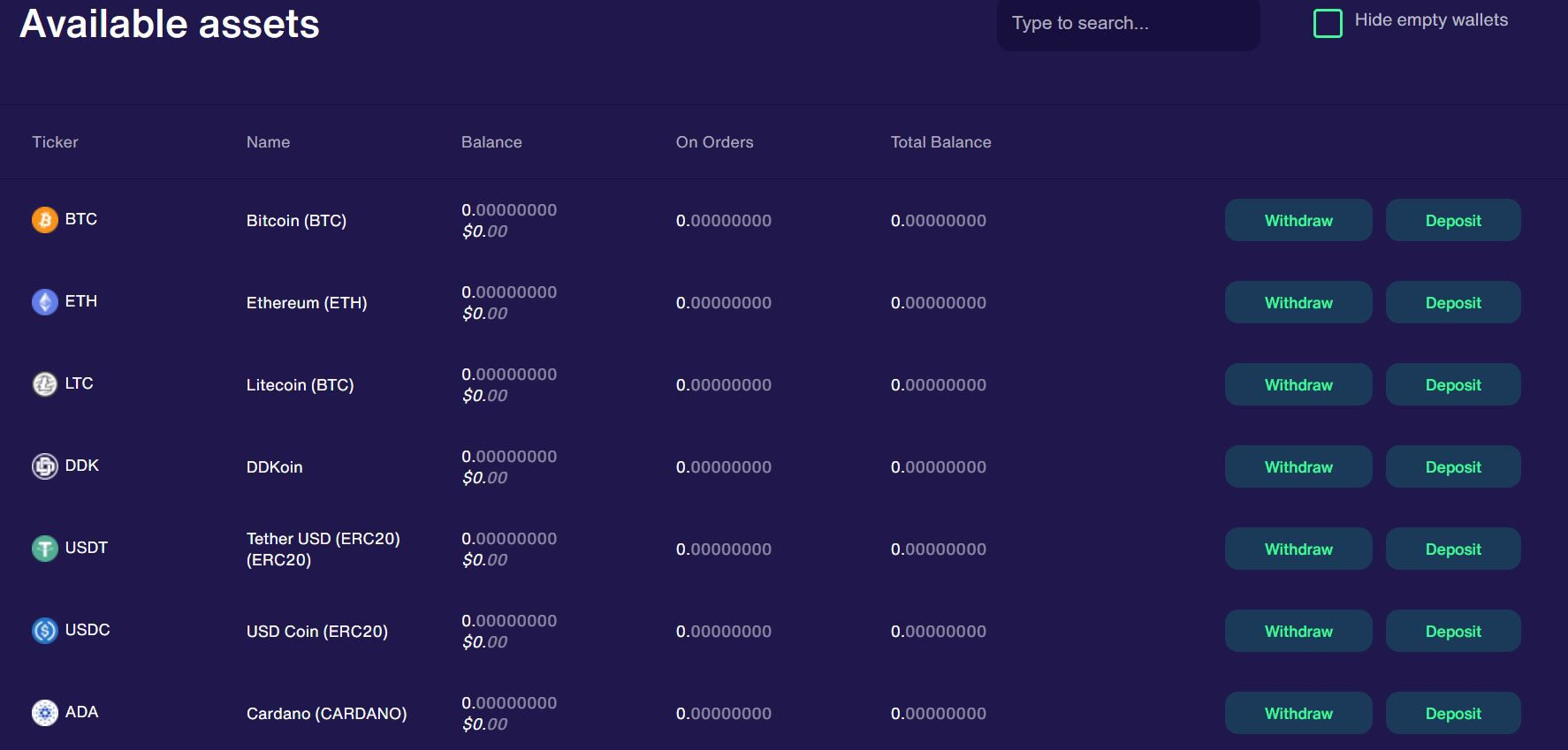 Step 3: Purchase ADAX. You can finish the steps to purchase ADAX, the utility token for the leading Cardano DEX, after the money arrives in your ExMarkets account.
You can view the two buy options for ADAX as well as the ADAX price on the ADAX/ADA trading page. The Quick Buy ADAX option is at the top. This is the going rate, and you'll buy ADAX right away.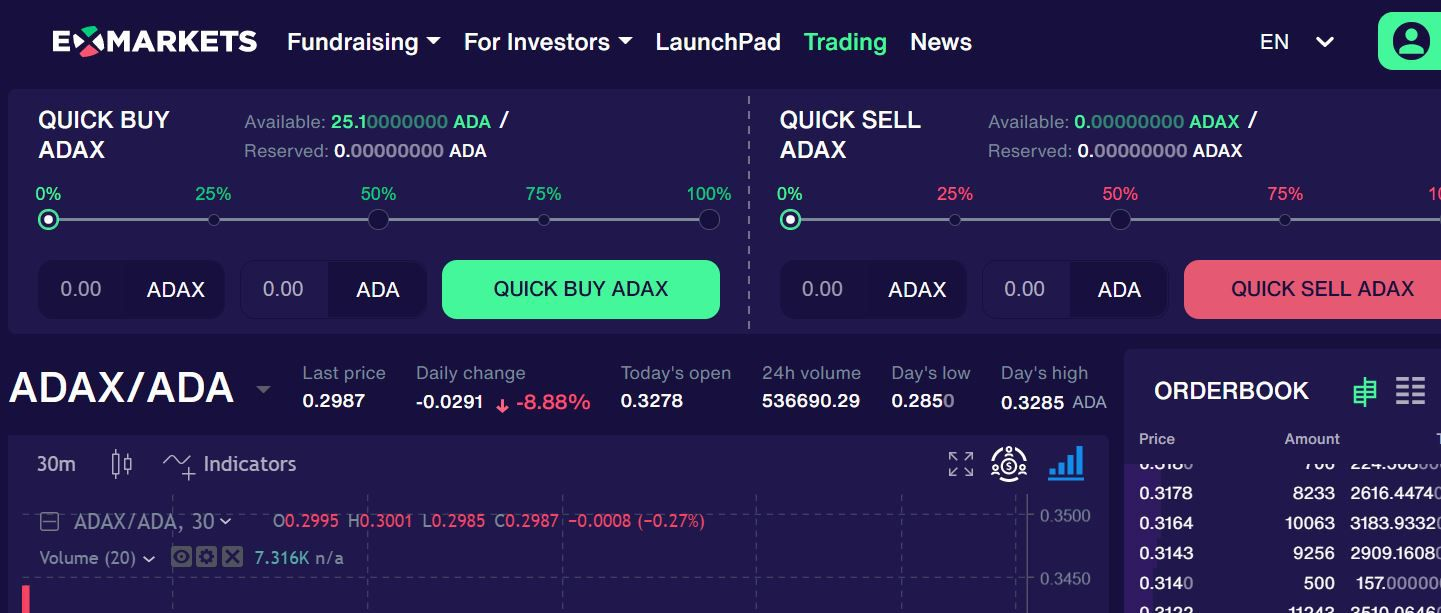 You may place an order to purchase and sell ADAX by scrolling down.
Competitors of ADAX
One of the closest competitors of  this platform is SundaeSwap. 
Its peer-to-peer approach is welcome, but it also makes things more difficult because ADAX needs a complicated movement and conversion mechanism to move tokens into and off of the platform. This brings up comparisons to SundaeSwap once more, which has a user-friendly UI. In contrast to SundaeSwap, ADAX concentrates on creating a polished and minimalistic appearance.
Conclusion
ADAX is often called "The Uniswap of Cardano." The DEX will undoubtedly integrate DeFi into the Cardano network. Token swaps, staking, and deep liquidity are made possible by ADAX. It is positioned to establish itself as the Cardano network's preferred DEX.
Investors will have to wait and observe the effectiveness of the key components of the protocol as employed by Cardano traders and investors since it is still in its early stages.